2013-2014 Undergraduate Catalog
[ARCHIVED CATALOG]
2013-2014 Undergraduate Catalog
---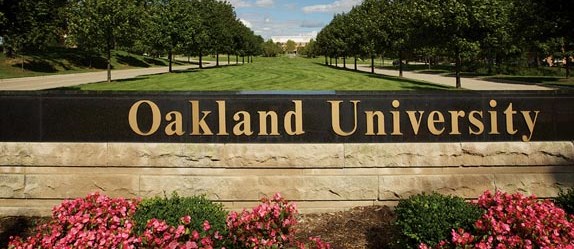 ---
Welcome to Oakland University's Online Undergraduate Catalog
The online catalog management system (AcalogTM) provides both current and prospective members of the campus community with detailed information about Oakland University's academic programs as well as a host of welcomed advantages. These virtual, fully interactive program guides offer greater accessibility, increased functionality and added convenience to anyone interested in quickly finding the academic program information they need. The online catalog provides students with the most up-to-date information on their academic programs and offers advisers and faculty a number of tools to support their work with student and program planning. Visitors to this site can also take advantage of the "My Portfolio" management tool located at the bottom of the navigation menu to the left. With this function students have the ability to identify departments, programs, and courses they have interest in and store for viewing at a later time. Note: please speak with an adviser to ensure your information is relevant to your catalog year.
To learn more, please review the Catalog User Guide  and the navigation links below:
Useful Links

 
Printed Catalog
Previous printed catalogs are available in PDF format click here.
Additional Information
For additional information about undergraduate programs click here.
---
May 2013 Volume LIII
Published by Oakland University, Rochester, Michigan
All data in this catalog reflect information as it was available at the publication date. Oakland University reserves the right to revise all announcements contained in this publication at its discretion and to make reasonable changes in requirements to improve or upgrade academic and nonacademic programs.
The academic requirements described in this catalog are in effect fall semester 2013 through summer semester 2020. Undergraduate students admitted to a degree-granting program may use provisions in this catalog to meet requirements within that time frame.
Oakland University is a legally autonomous state institution of higher learning. Legislation creating Oakland University as an independent institution, separate from Michigan State University, was established under Act No. 35, Public Acts of 1970. The university is governed by an eight member board of trustees appointed by the governor with the advice and consent of the Michigan Senate.
As an equal opportunity and affirmative action institution, Oakland University is committed to compliance with federal and state laws prohibiting discrimination, including Title VI of the Civil Rights Act of 1964, Title IX of the Education Amendments of 1972, Section 504 of the Rehabilitation Act of 1973 and the Americans with Disabilities Act. It is the policy of Oakland University that there shall be no unlawful discrimination against any person on the basis of race, sex, sexual orientation, color, religion, creed, national origin or ancestry, age, height, weight, marital status, handicap, familial status, veteran status or other prohibited factors in employment, admissions, educational programs or activities. Inquiries or complaints should be addressed to: Director, University Diversity & Compliance, 203 Wilson Hall, Oakland University, Rochester, Michigan 48309-4401.
---